THIS PAGE IS CURRENTLY UNDER CONSTRUCTION, PLEASE COME BACK SOON!

Unfiltered was a project I completed in July 2021, for my Information Design Module at Yoobee School of Design.
The scenario was that the Ministry of Youth Development – Te Manatu Whakahiato Taiohi – had identified an issue that affects a specific section on youth in New Zealand. They required the production of an informative campaign of information about the issue that creates awareness and outlines Identification, response and prevention of the issue.
For this project, we were tasked with identifying the problem and key target audience, and to develop an appropriate design solution. Alongside researching the client and their current initiatives, we also had to research and determine if there were implications of the Treaty of Waitangi on our design decisions.
After researching The Ministry of Youth Development and establishing their brand archetypes, I decided to focus on celebrating and promoting positivity about the LGTBQ+ youth of New Zealand by amplifying their voices and educating children so that they could learn more about themselves and each other. I looked into current school education surrounding LGTBQ+, but didn't find anything that specifically and thoroughly educates children on anything surrounding LGTBQ+ besides a brief overview. From this initial research, I decided that the issue I would focus on was closed communication around sexual orientation between parents and their children. I wanted to create a campaign that spread awareness, understanding and educated everyone involved that other orientations are okay and accepted. The key goals were to normalise, educate and empower. I wanted to help build healthy positive narratives, open communication and create connections.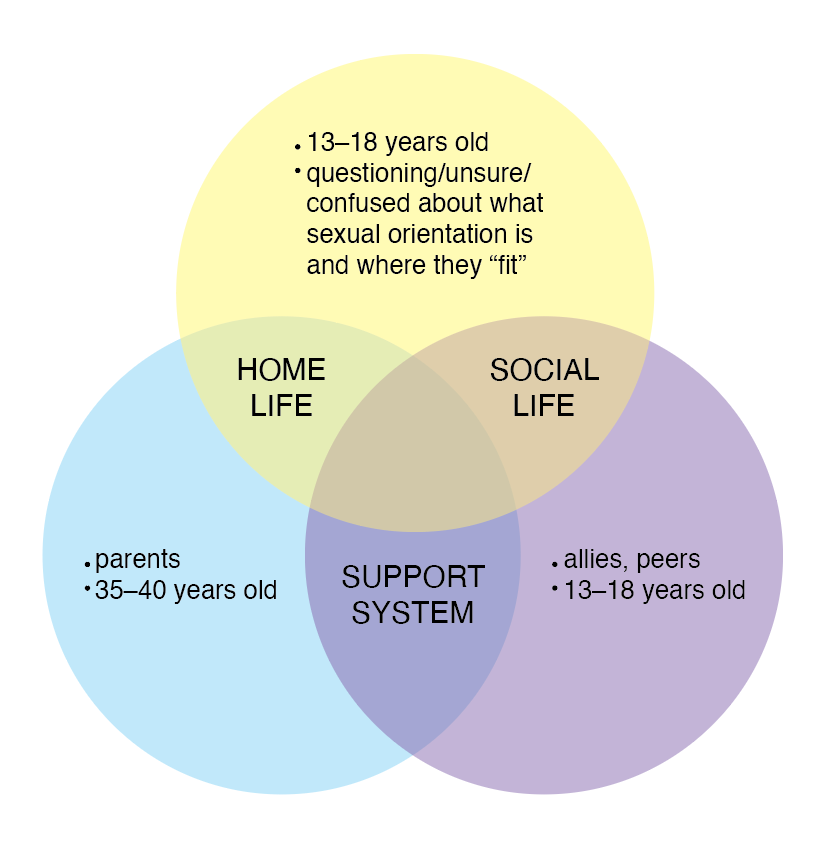 When it came to researching my potential target audience, I originally chose: 
- Primary: 13–18 year old questioning youth 
- Secondary: 13–18 year old allies/peers
- Tertiary: Parents 
However, after receiving feedback, I reevaluated this and began considering having the parents as my primary, questioning youth as my secondary and their allies as the tertiary. I decided to leave it unconfirmed for the pitch, so that I could get some feedback on where others thought I should head. I did create my personas with a bit more direction, having a parent as my primary and their child as the secondary. 
The feedback I received from the pitch confirmed my decision to have the parents as a primary, as everyone agreed that it was an informed way of helping the youth of New Zealand. By informing parents about the issue, they could talk to and provide support for their children.